QSFP28/56 (zQSFP+) MODULE COMPLIANCE BOARD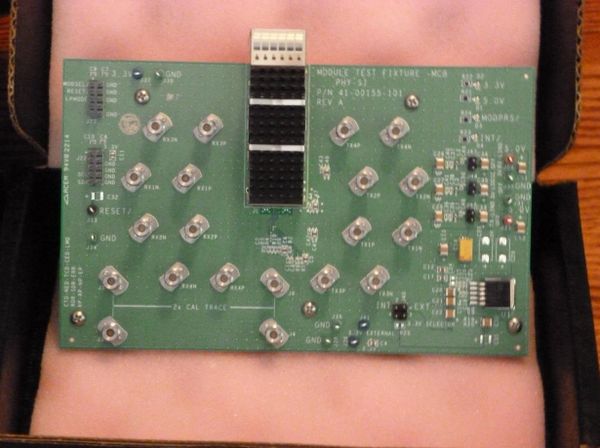 QSFP28/56 (zQSFP+) MODULE COMPLIANCE BOARD
QSFP28 (zQSFP+) MODULE COMPLIANCE BOARD.
CAUI-4 MODULE COMPLIANCE BOARD.
Compliant to IEEE802.3bj (100GBASE-CR4), IEEE802.3by (25GBASE-CR and 25GBASE-CR-S), IEEE802.3cd (50GBASE-CR, 100GBASE-CR2, and 200GBASE-CR4), IEEE 802.3bm, IEEE802.3bs, test fixture specifications.
Compliant to OIF-CEI-28G-VSR test fixture specifications

Requires +5V (+/-10%) unregulated external voltage
    Facilitates power sourcing to DUT
Built-In +3.3V linear voltage regulator
    Generates local clean voltage sourcing to DUT,

Green LED indicators of on-board +5V and +3.3V status

Available external +3.3V connector
    Enables application of external voltage for margining
Individual filter control for +3.3V Tx/Rx/Logic
    Optional disabling of series inductor to facilitate external injection of noise into DUT
I2C bus Interface Header
    Enables user external access to I2C bus
ModSelL, ResetL, LPMode Configuration Header
    User can hold "high" or "low" individually DUT control signals
LED Indicators of DUT status
    Green LED (DUT presence)
    Red LED (DUT interrupt)
Color coded connectors
    Facilitates ease of use of board interconnects
    Includes all voltages and ground
    External Reset
Calibration Traces (2x)
    Enables accurate de-embedding of test fixture trace loss

Solid Boards - No hanging wires

Developed and manufactured in the USA
ATTENTION !!! ON LINE PAYMENTS NOT ACTIVE YET. PLEASE CALL/EMAIL DIRECT.
CALL FOR DISCOUNT PROGRAM !!!

Sales and technical information
PHY-SI LLC
President/CTO
Christopher DiMinico
Office: (978)441-1051
Mobile: (978)758-0764
E-mail: cdiminico@phy-si.com
http://www.ieee802.org/3/
http://www.oiforum.com/
ftp://ftp.seagate.com/sff/
;